BSP PHARMACEUTICALS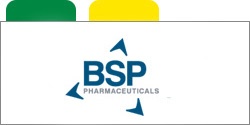 BSP PHARMACEUTICALS S.P.A. IS A CONTRACT DEVELOPMENT AND MANUFACTURING ORGANIZATION (CDMO).
The BSP campus hosts 2 segregated facilities to serve the clients with development from pre-clinical GLP to cGMP manufacturing for clinical and commercial supply of Cytotoxic and High Potent Oncology drugs and Non-Cytotoxic, innovative compounds for Immunotherapy and other therapeutics applications.
Facilities designed to handle small and large molecules as ADCs (conjugation and fill finish), Peptides, Proteins, Oligonucleotides and Nano Medicines.
BSP is technologically developed to meet the needs of innovators, with its High Containment Facility designed to offer a full range of integrated services aimed to support the entire life cycle of a product, from the formulation and process development/optimization, through scale up/scale down studies.

OUR MISSION The fight against cancer is ours too!


Profilo candidato ideale:
New Graduates in CTF – Biology – Biotecnology - Pharmacy – Chemical Engineering – Biomedical Engineering
Great can-do attitude
English fluent
Webinar
Evento
Location
Tipo
Dettagli