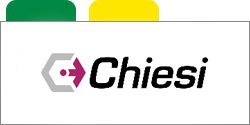 R&D In-vivo Pulmonary Pharmacology Intern
We are seeking for a motivated person with a background in biology or pharmacology who would like to have an internship experience in a pharma R&D. He/She/They will be part of the in vivo pharmacology team, a group focused on the development of animal models aimed to support the drug discovery projects in the respiratory field, contributing to the selection and identification of new clinical candidates for the treatment of chronic pulmonary disorders such as asthma, COPD and ILDs.
Main responsibility:
Support the in vivo experimental activities aimed to screen and characterize new molecules within the Chiesi discovery projects with a main focus on IPF.

Contribute to the development of new animal models of pulmonary diseases to fulfill the internal research project needs.
Main activities:
Execute both in vivo (compound administration via different routes, samples collection and lung functional assessments) and ex vivo (gene expression, biomarkers analysis in different biological samples) experimental assays.

Experimental data analysis and organization. Literature search and data presentation to the internal lab meeting.
Education: Master degree in scientific and biological disciplines (CTF, Pharmacy, Biology and Biotechnology).
Required experience:
Experience on in vivo techniques (rodents handling, drug administration and tissue sampling) as well as on in vitro assays (RNA extraction, ELISA and western blot).

Knowledge of data analysis and elaboration as well as literature search execution.

OPBA certification on in vivo experimentation and animal welfare is recommended.


Soft skills:
Team working in a multidisciplinary team.

Proactivity.

Problem solving.

Planning and organizational skills.
Language: Knowledge of both Italian and English. Study experience abroad is a plus.
Location: Parma.
Contract: 6 months internship. Reimbursement of expenses and meal vouchers
Degrees of interest: CTF, Pharmacy, Biology and Biotechnology