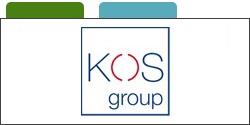 Tecnico di Neurofisiopatologia - Veneto
Requisiti:
• Laurea in Tecniche di Neurofisiopatologia ed iscrizione all'albo
• Gradita sperienza pregressa nel ruolo
La ricerca è rivolta a entrambi i sessi (Legge 903/77 e art.8 D.lgs 196/00).

Tipologia contrattuale:
• Stipula di contratto libero professionale con P.IVA o assunzione
• Compenso in linea con i valori della Sanità Pubblica
• Piattaforma scontistica riservata ai dipendenti/collaboratori KOS
• Percorsi di formazione aziendale attraverso la nostra Kos Academy

Sede di lavoro:
VENETO
• Santo Stefano Riabilitazione Villa Margherita 'ad Arcugnano (VI)
Degrees of interest: Laurea in Tecniche di Neurofisiopatologia
To apply to this opportunity, just click on APPLY. After clicking, you can add a motivation letter. It's recommended but not compulsory.
Important: if the job description is in english, than also the motivation letter and the cv saved into the platform must be in english.