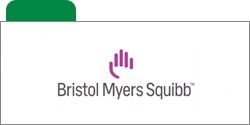 Stage curriculare
Il candidato scelto per lo STAGE CURRICULARE nella Direzione Strategy, Innovation & Business Operations, sarà attivamente impegnato all'interno di progetti funzionali e interfunzionali, volti a raggiungere il quadro di successo del dipartimento e a supportare il raggiungimento degli obiettivi di business di Bristol Myers Squibb, garantendo l'eccellenza nell'esecuzione.

Il candidato acquisirà:
> Eccellenti capacità analitiche
> Capacità di lavorare in team e in un'organizzazione a matrice complessa
> Capacità organizzative e gestionali, problem-solving, analisi del rischio
> Capacità di gestione delle relazioni esterne

Le attività comprendono:
- Launch excellence e modelli di G2M
- Sviluppo e ottimizzazione del processo di Account Management
- Pianificazione e analisi del sistema di incentivazione della field force (dalla stesura del piano al payout)
- Supporto allo sviluppo di un piano di comunicazione Omnicanale e dei Customer Engagement Journeys
- Altre attività crossfunzionali

Il candidato/a ideale avrà le seguenti caratteristiche:
- Prossimo conseguimento della Laurea (Magistrale o Specialistica – 5 anni) in INGEGNERIA o ECONOMIA o equivalente
- Prossimo conseguimento del Master
- Ottima conoscenza della lingua inglese
- Ottima conoscenza del pacchetto Office, utente avanzato di Excel e Power Point
- Analitico con attenzione ai dettagli, eccellenti capacità organizzative e capacità di prioritizzare con efficacia
- Attitudine a svolgere attività in modo indipendente e a confrontarsi in team cross-funzionali

Sede: Roma

What's important to us
Employees are expected to display the BMS Values, which move us toward our mission to discover, develop and deliver innovative medicines that help patients prevail over serious diseases:

Passion: Our dedication to learning and excellence helps us to deliver exceptional results. Innovation: We pursue disruptive and bold solutions for patients.
Urgency: We move together with speed and quality because patients are waiting. Accountability: We all own BMS' success and strive to be transparent and deliver on our commitments.
Integrity: We demonstrate ethics, integrity and quality in everything we do for patients, customers and colleagues.
Inclusion: We embrace diversity and foster an environment where we can all work together at our full potential.

We have a passion for tackling the toughest diseases, which inspires innovation and speed in our daily work and a sense of accountability to the patients we serve.
Degrees of interest: Laurea (Magistrale o Specialistica – 5 anni) in Ingegneria o Economia