ZENTRALE AUSLANDS- UND FACHVERMITTLUNG (ZAV) INTERNATIONAL SERVICES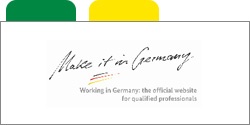 Within the network of the Federal Employment Agency (BA), ZAV is primarily responsible for the immigration of skilled workers from abroad and for the placement of special occupational groups.
All of the ZAV's business areas have in common that they inform, advise and place people who are in a particular professional transition, for example as a skilled worker abroad, looking for a job in Germany or as an artist looking for a new engagement.
The services offered by the ZAV - both to employers and employees - are highly responsive to the specific needs of certain professions, industries and countries.
Il candidato perfetto:
medicina e CTF 60%
Laureato/a
Conoscenze della lingua tedesca
Motivazione
Webinar
Evento
Location
Tipo
Dettagli