STERIS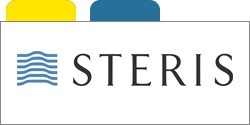 STERIS is a leading global provider of products and services that meet the needs of healthcare growth areas: procedures, devices, pharmaceuticals and dental. WE HELP OUR CUSTOMERS CREATE A HEALTHIER AND SAFER WORLD by providing innovative healthcare and life science products and services around the globe.
STERIS offers customers a unique mix of innovative capital equipment products, such as sterilizers and washers, surgical tables, lights and equipment management systems, and connectivity solutions such as operating room integration; consumable products such as detergents and gastrointestinal endoscopy accessories, dental instruments, and other products; and services including equipment installation and maintenance, microbial reduction of medical devices, instrument and scope repair solutions, laboratory services, and off-site reprocessing.
At a glance:
$4.6 BILLION Revenue on Fiscal Year 2022; +16,000 ASSOCIATES WORLDWIDE; Beginning in 2012, STERIS has acquired more than 40 companies across all of our business segments, and we continue to look for opportunities globally; Listed on the New York Stock Exchange under the symbol "STE"
EVP
At STERIS, our over 16,000 employees are working every day in support of our MISSION: WE HELP OUR CUSTOMERS CREATE A HEALTHIER AND SAFER WORLD by providing innovative healthcare, life sciences and dental products and services.
We strive to be a GREAT COMPANY by providing WORLD-CLASS PRODUCTS AND SERVICES for our Customers, safe and rewarding work for our People, and superior returns for our Shareholders.
Underlying our products and our people, our past and our future, are our values. They define who we are and what we want to become.
CUSTOMERS FIRST– ALWAYS
PEOPLE– THE FOUNDATION
INNOVATION– THE BEST
TEAMWORK– WINNING TOGETHER
ACCOUNTABILITY– RIGHT NOW
INTEGRITY– STEWARDSHIP COMMITMENT
Il candidato perfetto:
Corsi di Laurea: Ingegneria (Meccanica, Elettrica/Elettronica, Biomedica, Informatica, Gestionale) Chimica, Biologia, CTF.
Le caratteristiche che non possono mancare in un candidato: capacità di lavorare in team, passione per l'innovazione.
Webinar
Evento
Location
Tipo
Dettagli