MEDPACE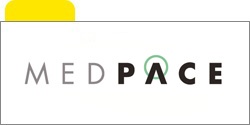 Medpace Overview
Medpace is a full-service clinical contract research organization (CRO). We provide Phase I-IV clinical development services to the biotechnology, pharmaceutical and medical device industries. Our mission is to accelerate the global development of safe and effective medical therapeutics through its scientific and disciplined approach. We leverage local regulatory and therapeutic expertise across all major areas including oncology, cardiology, metabolic disease, endocrinology, central nervous system, anti-viral and anti-infective. Headquartered in Cincinnati, Ohio, employing more than 4,000 people across almost 40 countries.
What is a Clinical Trial?
Clinical trials are research studies that determine the safety and efficacy of possible new treatments for a disease or illness. Medpace conducts trials involving drugs, devices, and laboratory services. Part of the clinical trial process involves rigorous research which is regulated and required prior to approval.
Why Medpace?
When you join Medpace, you become part of a team dedicated to supporting the development of ground-breaking drugs and devices. Our employees provide hope for those living with debilitating diseases. We invite you to be a part of something that is impacting millions of people around the globe while enjoying a competitive total compensation and benefits package and internal growth opportunities.
Throughout the clinical development life cycle, Medpace provides medical and regulatory leadership guidance and efficient, disciplined operational execution of studies around the world. Our comprehensive capabilities, resources and global footprint ensure quality and timely development across all phases of research.
Areas of Therapeutic Focus
• Autoimmune Diseases
• Cardiovascular
• Endocrine & Metabolic
• Gastroenterology
• Hematology & Oncology
• Infectious Diseases and Vaccines
• NASH & Liver Disease; Neurology & Psychiatry
• Nephrology
• Ophthalmology
• Pediatrics
• Rare Diseases
• Cellular & Gene Therapy
WHAT ARE YOU LOOKING FOR?
- Bachelor's and Master's Degree in Life Sciences or Health-related field (80%)
- PhD in Life Sciences (10%)
- Bachelor or Master in Law or Sciences (10%)
Webinar
Evento
Location
Tipo
Dettagli