ICON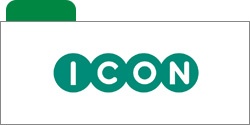 Since our foundation in Dublin, Ireland in 1990, our mission has been to help our clients to accelerate the development of drugs and devices that save lives and improve quality of life.
We are a global provider of consulting, and outsourced development and commercialisation services to pharmaceutical, biotechnology, medical device and government and public health organisations. We focus our innovation on the factors that are critical to our clients – reducing time to market, reducing cost and increasing quality – and our global team of experts has extensive experience in a broad range of therapeutic areas. ICON has been recognised as one of the world's leading Contract Research Organisations through a number of high-profile industry awards.
Stronger Together
We help our customers accelerate the development of drugs and devices that save lives and improve quality of life.
It's the answer to why we are here and what impact we make on the world, our industry and on society as a whole.
No matter what part of ICON you work in, you are contributing to solving some of the most complex healthcare challenges and are helping to deliver new medicines and devices that are impacting millions of peoples' lives, right across the world.
Our people are our greatest strength, are the core of our culture and the driving force behind our success. Throughout all levels of the company, ICON people have a drive to succeed and a passion that ensures what we do, we do well.
We encourage our people to seize the opportunity to bring flexibility, innovation and determination to every situation.
By doing this, our people build exciting and rewarding careers, deliver results to help bring life-changing medicines and devices to market and maintain ICON's success as an industry leader.
Our Mission & Culture
ICON is a values-driven, people-centric organisation. Our core values are not unique to ICON but we use these guiding pillars to stay accountable for the work that we do. We are passionate and driven and we want to deliver for our patients, our people and our customers.
As one team, we believe in the power of collaboration to inspire and enable our people across all service lines. We believe that collaboration leads to increased innovation and efficient and successful outcomes.
We always strive to do the right thing and we have built our business on integrity and responsibility. With longstanding partnerships with pharma, biotech and medical device companies, we constantly seek to bring new and innovative solutions to our customers' challenges.
We want to be the Clinical Research Organisation that drives more client projects to market or accelerated decision than anyone else in the industry. In short, to be the partner of choice in drug development. That's our vision. We're driven by it. And we need talented people who share it.
If you're as driven as we are, join us. You'll be working in a great environment, with some of the brightest and the friendliest people in the sector, and you'll be helping shape an industry.
Webinar
Evento
Location
Tipo
Dettagli