BRACCO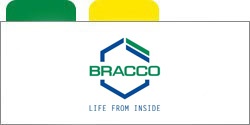 The Bracco Group

Bracco is an international Group active in the healthcare sector and a leader in diagnostic imaging. It has around 3,700 employees and annual total consolidated revenues of around 1,7 billion euros, 89% of which are from international sales. The company invests approximately 10% of reference turnover in the R&D area for the imaging diagnostics and medical devices sectors.
The Group's main products are contrast agents, medical substances used to improve the diagnostic accuracy of biomedical imaging and the care of patients affected by diseases of varying types and severity.

Bracco offers an extensive and innovative portfolio of products and solutions for all diagnostic modalities completed by several medical devices and advanced administration systems for contrast imaging products in the fields of cardiology and radiology, developed by its American company ACIST.

Its subsidiary Bracco Imaging is one of the world's leading companies in the diagnostic imaging field: X-Ray Imaging (including Computed Tomography-CT), Magnetic Resonance Imaging (MRI), Contrast Enhanced Ultrasound, and Nuclear Medicine. The Company operates in over 90 markets: in North America through Bracco Diagnostics Inc. USA headquartered in Princeton, NJ, and with an affiliate in Montreal (Canada); in Europe, with offices in all major countries; in Japan (BRACCO-EISAI). The Company also operates in South America, South Korea and China through its 70% controlled Joint Venture, Bracco Sine Pharmaceutical Corp. Ltd. In 2019 Bracco Imaging also enriched its product portfolio by expanding the range of oncology nuclear imaging solutions in the urology segment and other specialties with the acquisition of Blue Earth Diagnostics.

Since its foundation, Bracco has been a socially responsible company in each area of activity - in business as in every other context.
Webinar
Evento
Location
Tipo
Dettagli