A. MENARINI - Industrie Farmaceutiche Riunite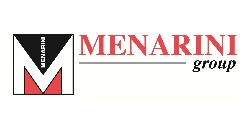 CHI SIAMO
The Menarini Group is the leading Italian pharmaceutical company in the world, a guarantee of internationally recognised quality. The achieved results are proof of an efficient strategy based on Research, Innovation and Internationalisation, along with the ability to recognize and meet the needs of physicians and patients alike.

One of the Menarini Group's strong points is its collaboration with international partners: the goal is to create synergies that give rise to cutting-edge solutions, pharmaceutical products, and services in the health sector.

At Menarini, quality is the basis of a shared Group strategy. All company structures are involved at different levels in the drug manufacturing process: an efficient system that has created a unique work standard for ensuring quality in every phase, from research to production, from distribution to providing scientific information. All for achieving a common goal: excellence.

In 2014 Menarini is the 16th company out of 5,180 in Europe and the 38th out of 18,237 in the world (IMS World Review; IMS World Review Pack per number of enterprises), with a consolidated turnover in 2014 of 3,362 million euro of which 72.5% was generated from abroad.
The Group has 16.603 employees, 91% of whom hold degrees or diplomas: 20% work in Italy and 80% abroad.
In 2012, 545 million packs of product were produced at Menarini's 14 manufacturing sites.

"Health without borders", with this vision Menarini makes the difference.
Presentazione Aziendale
A. MENARINI - Industrie Farmaceutiche Riunite | 03/10/2018 - 11:15
Webinar
Evento
Location
Tipo
Dettagli